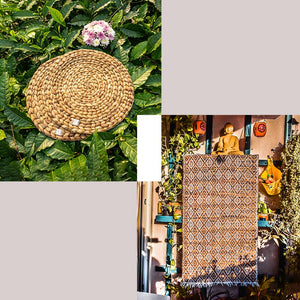 Contents: Wicker Round Mat 2 no. , Wicker Pronita Mat 1 no.
Material: Water Hyacinth
Dimension: Wicker Round Mat: 12 inch dia, Wicker Pronita Mat: 48x24 inch
Product Description:
Add a touch of rustic charm to your home with our Wicker Country Charm Placemat Combo. This combo set includes two wicker placemats, and a rectangular mat which can be used on the floor, as a throw, or some liek to display it on the walls as well (it is so beautiful). They are expertly handcrafted from natural wicker materials. These placemats are not only functional but also stylish, perfect for enhancing your home decor.
The pronita and round placemats have a woven design that gives them a classic, timeless look. The Wicker Country Charm Placemat Combo is an excellent gift for those who appreciate natural materials and rustic decor.

These mats are easy to clean and maintain, simply wipe them down with a damp cloth to remove any spills or stains.

Specialty: Hand Woven and Eco-friendly, every purchase contributes towards women empowerment and sustainable livelihood. Being hand woven, there are small imperfections, which is the beauty of the product.
Care Instruction: A wipe with a damp cloth will clean it. Water Hyacinth products love light and air, do not keep these products locked up in a damp closet. They can tolerate water, but do not keep them damp for too long.

Country of Origin: India
Price: Price mentioned above is MRP. For bulk prices please email us.