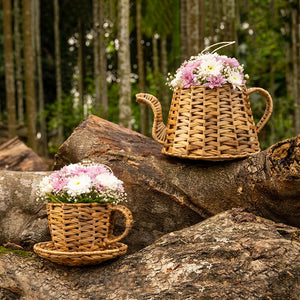 Contents: Wicker Kettle Basket 1 no. , Wicker Cup Saucer Basket Mini 1 no.
Material: Water Hyacinth
Dimension: Wicker Kettle Basket: 8.5x6x6 (bottom diax top dia x h), Cup Saucer Basket Mini: 3x5x4 (bottom diaxtop diaxh), Saucer 7 inch
Bring a charming touch of vintage elegance to your home with our Wicker Tea Time Duo. This combo set includes two wicker planters, one shaped like a cup and saucer, and the other like a kettle, both expertly handcrafted from natural wicker materials. These planters are not only adorable but also practical, perfect for planting your favorite herbs, succulents, or small flowers.
The cup and saucer planter have a smooth and sturdy surface, which makes it suitable for indoor and outdoor use. The kettle planter can be used to plant a small herb garden or as a decorative storage for tea bags or other kitchen items.
The Wicker Tea Time Duo is an excellent gift for tea lovers or anyone who wants to add a unique touch to their home decor. Place them on your kitchen countertop, windowsill, or dining table, and enjoy the cozy charm they bring to your space.
The planter duo is small enough to fit anywhere, yet big enough to make a statement. The planters are deep enough to accommodate small plants. Order your Wicker Tea Time Duo today and add a touch of whimsy to your home!
Specialty: Hand Woven and Eco-friendly, every purchase contributes towards women empowerment and sustainable livelihood. Being hand woven, there are small imperfections, which is the beauty of the product.
Care Instruction: A wipe with a damp cloth will clean it. Water Hyacinth products love light and air, do not keep these products locked up in a damp closet. They can tolerate water, but do not keep them damp for too long. Soil should not be put directly into the planter.

Country of Origin: India
Price: Price mentioned above is MRP. For bulk prices please email us.