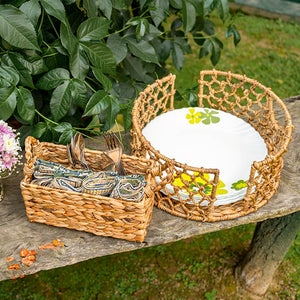 Contents: Wicker Plate Caddy 1 no. , Wicker Cutlery Basket 1 no.
Material: Water Hyacinth
Dimension: Wicker Plate Caddy: 12.5X5.5 inch (diaxh), Wicker Cuttlery Basket: 9X4.5X5.5 inch dia
Product Description:
Enhance your dining experience with our Wicker Radiance Dining Set, which includes a Wicker Plate Caddy and Cutlery Basket. Made from high-quality natural wicker materials, this combo set is both sturdy and stylish.

The Wicker Plate Caddy is perfect for carrying plates from the kitchen to the dining room or outdoor patio. With its sturdy wicker construction, it can hold about 8 plates of various sizes. It has a handle that is comfortable to hold, making it easy to transport your plates without spilling or dropping them.
The Cutlery Basket is perfect for holding your cutlery, napkins, and other dining essentials. Its spacious design can hold enough cutlery for a large family or a group of guests. The open-weave wicker design allows air to circulate, keeping your cutlery dry and rust-free.
This combo set is perfect for outdoor dining, picnics, or indoor family gatherings. Its rustic and natural design blends perfectly with any dining table decor. The Wicker Radiance Dining Set is also a great gift for any home entertainer or for anyone who loves to host dinner parties.
The Wicker Radiance Dining Set is easy to clean and maintain. Simply wipe it down with a damp cloth to keep it looking new. Order yours today and add a touch of natural elegance to your dining experience.
Specialty: Hand Woven and Eco-friendly, every purchase contributes towards women empowerment and sustainable livelihood. Being hand woven, there are small imperfections, which is the beauty of the product.
Care Instruction: A wipe with a damp cloth will clean it. Water Hyacinth products love light and air, do not keep these products locked up in a damp closet. They can tolerate water, but do not keep them damp for too long.

Country of Origin: India
Price: Price mentioned above is MRP. For bulk prices please email us.